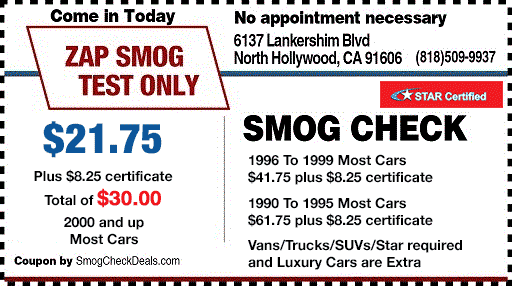 ZAP Smog Test Only
Smog Check North Hollywood
6137 Lankershim Blvd.
North Hollywood, CA 91606
STAR Test Only smog center

Business Hours: 
M-F 8-6, Sat 8-4, Sun Closed
$19.75 Smog Check with smog coupon
Must Present smog coupon in Mobile or Print format.
Smog Check:
STAR Certified Station
We can smog test all cars
All DMV Smog Checks
Smog Test Only
Diesel Smog Check
Smog Test
Gross Polluter Certification
Out of State Smog Check
Registration Renewal Smog Check
Smog Inspection
Smog Check Certification
Best price for smog check north hollywood
ZAP Smog Test Only is a certified smog check station offering all types of DMV required smog check including test only smog check, out of state, vehicle registration smog check, diesel smog checks, regular smog check, registration renewal smog check, gross polluter certification, change of ownership smog test, all vehicle smog inspection and Gold Shield smog test.
North Hollywood residents can find their nearest smog check and smog test certification and emission inspection center by clicking on contact page.  North Hollywood Smog Check, smog test, smog inspection and certification center is located at 6137 Lankershim Blvd., North Hollywood, 91606, 91601 , 91602,91603 , and 91604 zip codes.  All standard smog check, smog test, smog inspection and smog certification required by the State of California Department of DMV can be performed at this location. Smog Pricing is standard and discount is available by clicking on our  "Smog Check Coupon Page"  on this website. For your next smog check, smog test, test-only, emission inspection, or smog certification, or if you currently need a smog check, smog test, test-only, smog inspection or certification, please contact us at the numbers listed below (818)509-9937